Why SalesPoint?
Since 2003, Rockledge Software, Inc. has developed cutting-edge software for media companies to increase revenue and reduce production costs. With SalesPoint, your sales team will spend more time selling and less time preparing presentations and insertion orders. Mapping software shows distribution and other data by ZIP Code, sub-zip and zones to provide advertisers with a comprehensive buy. And, with integration to your billing and distribution systems, SalesPoint Insertion Order technology provides speed and accuracy for all preprint orders.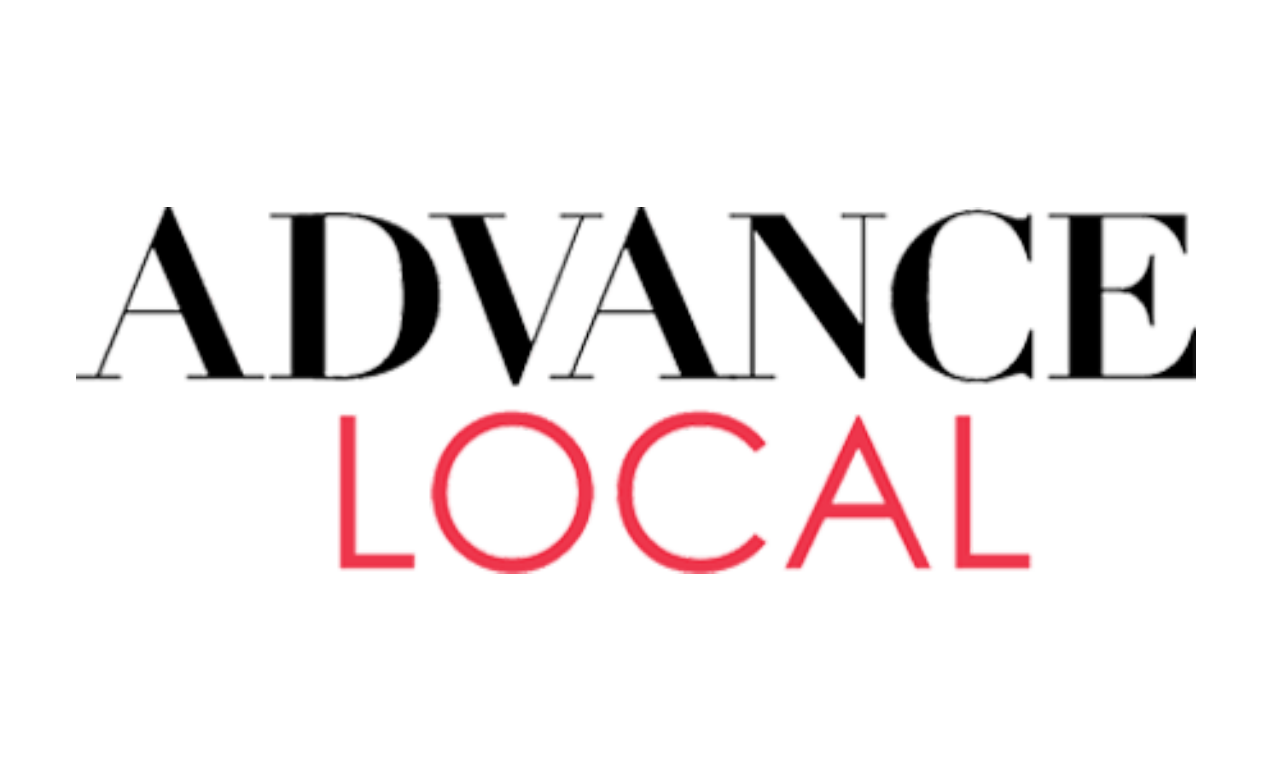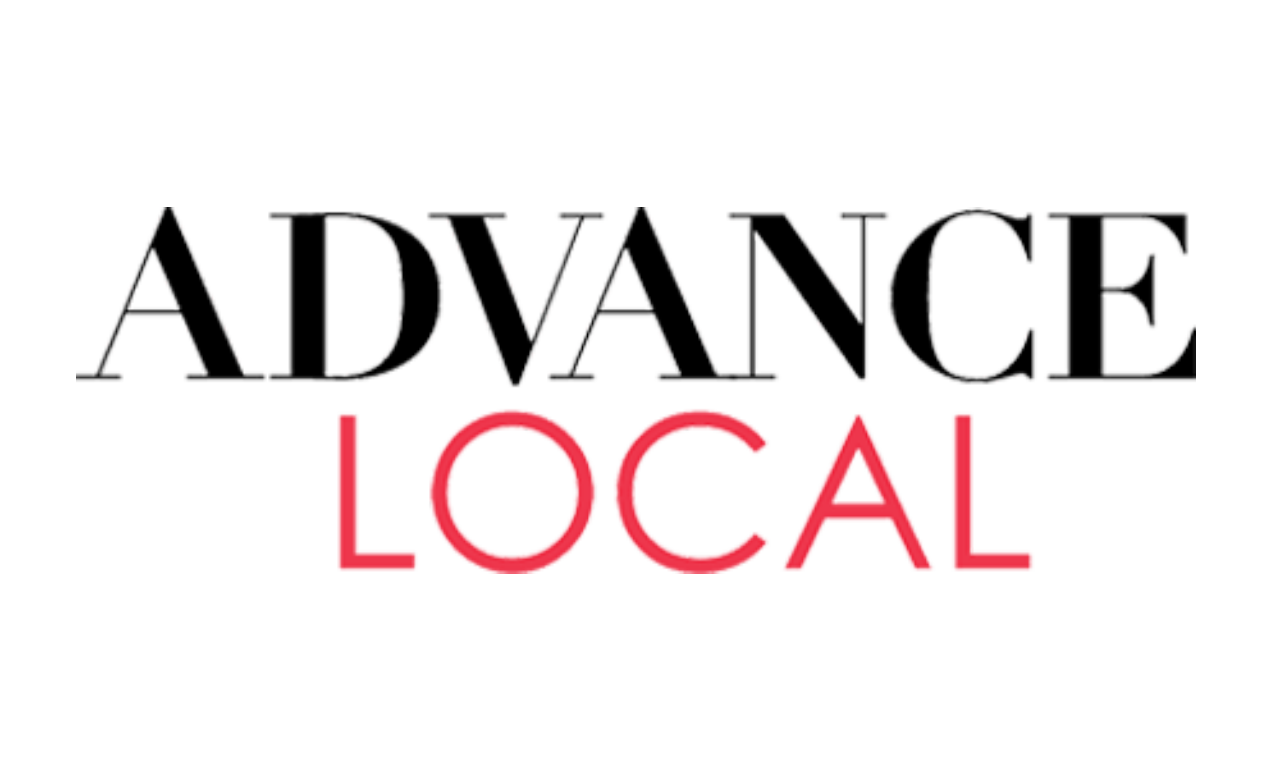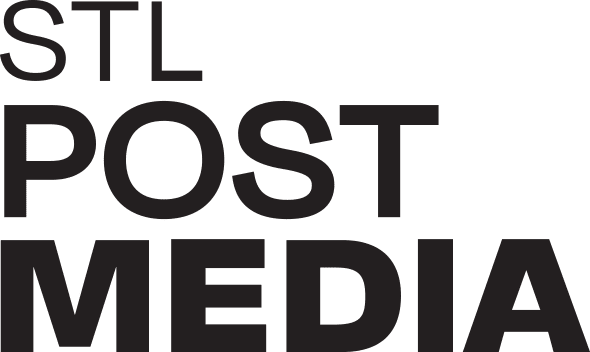 Targeted Mapping, Presentations, Proposals and Insertion Orders for Media Advertising Sales
SalesPoint Map
SalesPoint™ Map from Rockledge Software enables your reps to sell more of your media products such as Preprints, Print and Deliver, Post It Notes, TMC, Digital and more. With custom maps of your market, reps can quickly and easily prepare custom presentations and proposals with accurate circulation and distribution numbers for every customer.
Do you sell preprints or inserts by truck route? Do you sell split ZIP Codes in your market? Do you have unusual preprint or insert zones? Want to sell at the block group level? No problem!
SalesPoint Map is designed to "think" in the units you sell. By designing our own maps instead of using a third party retailer, we can accommodate any selling style. By using a series of tools like insets, blow outs, and special out of market click boxes, SalesPoint Map supports your selling style.
Selling with Demographic data is important to your advertisers. If you have access to demographic data, you can make them available to your reps through SalesPoint, increasing the power of your presentations and proposals. Integrating your demographic data not only enables your sales team to make smarter recommendations, it leverages a valuable resource that your newspaper already owns.
SalesPoint™ Map is simple enough that every rep will be able to use it, but powerful enough that even your most demanding reps will find all the features they need.
A simple wizard design allows you to build a complete proposal in four steps.
Step 1. Choose the account
Step 2. Select the map
Step 3. Plot stores and choose your distribution types
Step 4. Select your output type
Gorgeous maps – no matter how close in you get.
Our new mapping technology redraws the maps as you zoom closer into your desired view, showing additional roads when you're in close, but keeping the map clutter-free when you're further back.
Use it anywhere
Because SalesPoint Map is web-enabled, you can access your proposals from any computer with a connection to the internet. And because your data is password-protected, it's safe from prying eyes!
Three types of output
When you finish a proposal you can;
Print your proposal.
Create an Adobe™ Acrobat PDF copy of your proposal for easy emailing to your client.
Create JPEG images of your proposal for use with Microsoft™ PowerPoint.
Then, when the proposal is approved, you can automatically create the insertion order.
SalesPoint Insertion Order
We understand that the proposal isn't the last step in the selling process. Hopefully, it's just the beginning. With SalesPoint Insertion Order, a simple click turns your proposal into an insertion order, with all the information from your map already filled out! Simply enter any remaining information, click to create your output, and you're done!
Want more? Orders can then be used as templates for future orders. Open a template, change a run date, and suddenly circulation values are updated. Add or subtract areas through an easy to use drag and drop interface. Routing tools let you address work flow issues like manager approval for late ads or credit checks.
Still want more? Ok, how about we integrate the orders so they electronically transfer into your accounting or packaging system? This feature will change your world. Imagine no more key punch errors, no lost orders. For some of our clients this has even meant a change in deadlines, which transfers to more selling time and more sales!
Track the heck out of it. If you do it in SalesPoint you can most likely track it. Track what areas are being sold the most, and the least. What product generates the most revenue? What day of the week is sold the most often? SalesPoint reports can be used to manage sales reps, analyze distribution areas, and even manage TMC mail costs.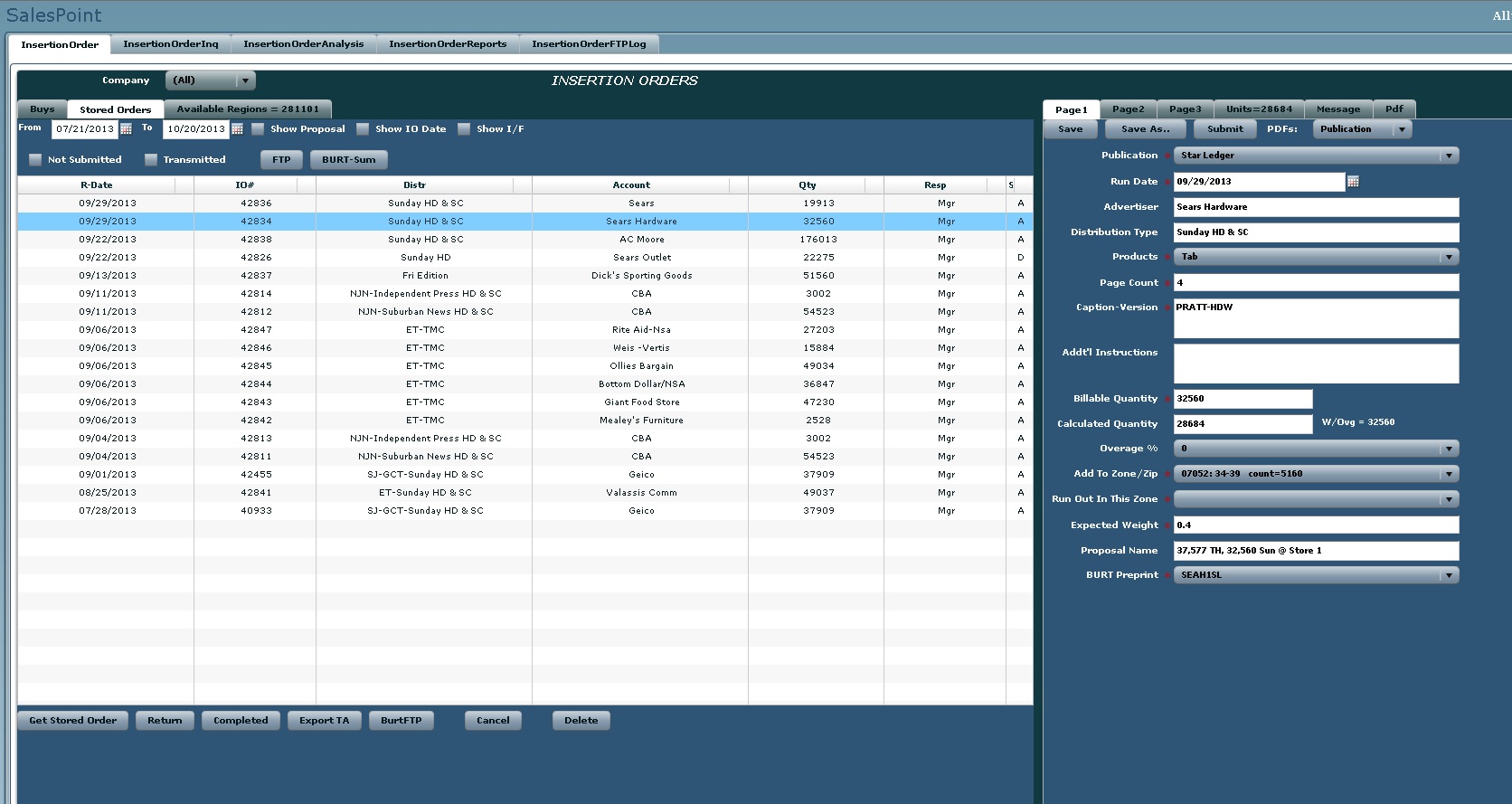 "We have increased P&D sales since installing SalesPoint and have been impressed with the speed and functionality.  And, with the efficient and reliable insertion order process, we're saving on costs"
-Alex Barnishin, Senior Director
Belo Media Group/The Dallas Morning News

"SalesPoint helps us manage counts and provide our sales team with up-to-date numbers for every presentation, even with changes in zones and distribution. And, the support team is awesome. Their fast response and industry knowledge helps keep us selling"
Mark Missurelli
Direct Marketing & Special Section Manager
Milwaukee Journal Sentinel & JSOnline

"SalesPoint Insertion Order streamlines our process and saves on production costs. We use SalesPoint Enterprise as a single front-end system for presentations and ad order entry to serve all our markets. The team at Rockledge is knowledgeable about our industry and they are always willing to help us find solutions to improve our workflows."
Christa Kendrick-Grimes
Ad Services and Commercial Print Director
Hearst Newspapers

"We use SalesPoint as an enterprise-wide system for all McClatchy properties. The technology fits our needs perfectly to sell more products, facilitate our consolidated selling and support structure and seamlessly integrate with our billing and packaging systems."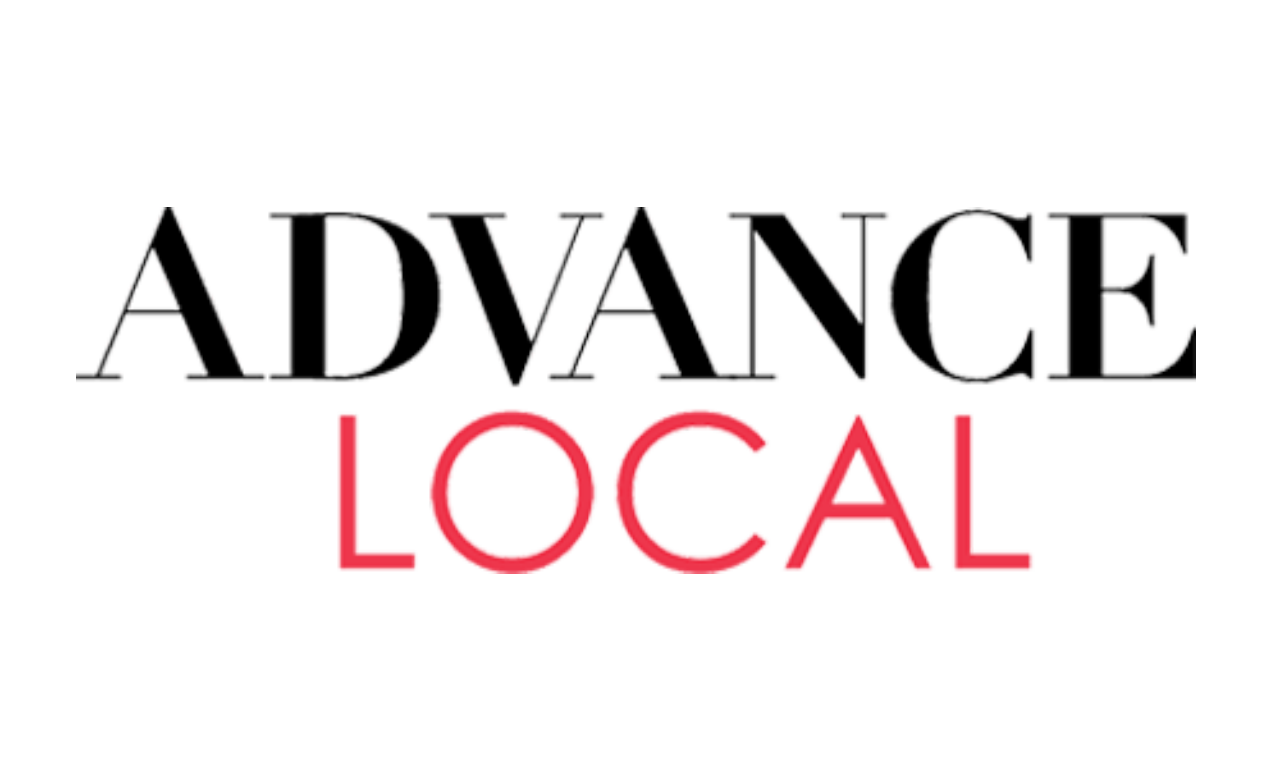 "SalesPoint has been in a number of Advance Publications for over 10 years.  With the print revenue won and operational efficiency gained from its' Sales and Order fulfillment functionality, the platform was rolled out to all Advance Local Newspapers in 2017.  Building professional,  revenue generating sales presentations with multiple products, sophisticated mapping supported by market demographics is an easy, quick task for Sellers.  In today's disruptive media sales environment, SalesPoint is a must have solution to win and retain revenue."
Steve Westphal
Vice President, National Sales
Advance National team
About Rockledge Software
Founded in 2003, Rockledge Software, Inc has been providing media companies with cutting-edge software solutions to increase revenue and decrease operating costs. A team of software developers and media sales experts have created SalesPoint™, the industry leading mapping software for advertising sales and automation.
Allyn Hallisey
Allyn is the founder and president of Rockledge Software, Inc. Allyn has spent the past 28 years helping media companies apply sales software technology in an effort to improve sales and cut operating costs. His extensive media experience can be seen throughout SalesPoint™, from the simple interface design, to the powerful built-in sales tools, SalesPoint™ has that "Media" feel.
Bill Shannon
As a Senior Developer and Systems Integration Specialist at Rockledge Software, Bill brings over a decade of full-stack development experience and expertise in crafting innovative software solutions. Skilled in collaborating with diverse teams from around the globe, his commitment to reliability plays a pivotal role in Rockledge Software's growth into a comprehensive media and sales technology powerhouse. Bill's contributions help drive the success of clients and projects, reinforcing Rockledge Software's position as a leader in the industry.
Chris Browne
With more than 30 years in newspaper sales, Chris provides sales training for SalesPoint customers using the latest technology and learning tools to help sales reps understand how to use SalesPoint to increase sales.
We'd love to hear from you!
Whether it's to schedule a demo or to answer a question, we're here to help.